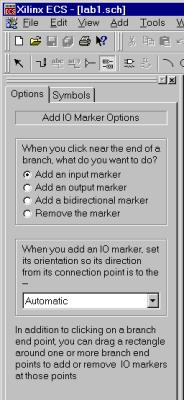 All wires that you want to provide input to or observe output from must be connected to I/O pads. To do this, you must first select the I/O pad tool (selected in the window to the left) from the toolbar. Next, observe the dialog box on the left side.

These pads determine the inputs and outputs for your design. Moreover, they must be connected to wires on your schematic (they cannot be connected directly to the gate input.)

Adding in input pad is a simple matter of selecting "Add an input marker" in the dialog on the left side and clicking on the end of the wire whose input you wish to define. From there, you must rename the input pad to correspond to the constraints on your design.

To rename an I/O pad, you can use one of two methods. The first method is to double click the pad, and then set the net name within the dialog box that appears. The second is to simply right-click on the pad and select Rename from the contextual menu that is brought up. In either case, these names must match with the settings used in the Constraints file, which is detailed later in the lab.

The additon of an output pad is analogous to that of the input. Select "Add an output marker" and place it on the schematic. Once again, you must rename the pad to match the constraints of your design.