---
Visual Pointing Gestures for Bi-directional HRI in a Pick-and-Place Task
This research explores visual pointing gestures for two-way nonverbal communication for interacting with a robot arm. Such non-verbal instruction is common when humans communicate spatial directions and actions while collaboratively performing manipulation tasks. Using 3D RGBD we compare human-human and human-robot interaction for solving a pick-and-place task. In the human-human interaction we study both pointing and other types of gestures, performed by humans in a collaborative task. For the human-robot interaction we design a system that allows the user to interact with a 7DOF robot arm using gestures for selecting, picking and dropping objects at different locations. Bi-directional confirmation gestures allow the robot (or human) to verify that the right object is selected. We perform experiments where 8 human subjects collaborate with the robot to manipulate ordinary household objects on a tabletop. Without confirmation feedback selection accuracy was 70-90% for both humans and the robot. With feedback through confirmation gestures both humans and our vision-robotic system could perform the task accurately every time (100%). A demonstration of our interaction can be seen here.
Camilo Perez Quintero, Romeo Tatsambon Fomena, Mona Gridseth, Martin Jägersand: Visual Pointing Gestures for Bi-directional Human Robot Interaction in a Pick-and-Place Task. IEEE International Symposium on Robot and Human Interactive Communication (RO-MAN) 2015..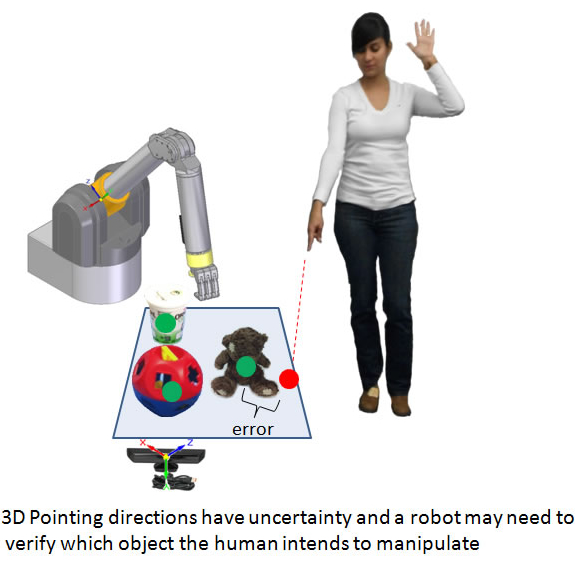 Making Pizza with my robot
We envision that our system can be used in different real life scenarios, e.g., a robot can work behind a counter taking the role of a shopkeeper; a client points to a particular object and by using confirmation feedback the robot will reach the desired product. In another situation a robot can be used as a chef at a hotel breakfast buffet; the client points to different ingredients to include in his omelette. In a metal workshop a robot can assist a welder by picking and placing parts. The welder only has to point to them, avoiding heavy weight manipulation and extreme temperatures. To bring our study to a practical situation we made our robot capable of preparing pizza by gesturing with a human. A demonstration of our interaction can be seen here.
Camilo Perez Quintero, Martin Jagersand. "Robot Making Pizza". 3rd place in the IEEE Robotics and Automation Society (RAS) SAC Video contest, May 2015..