---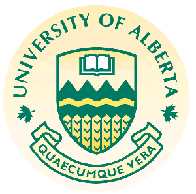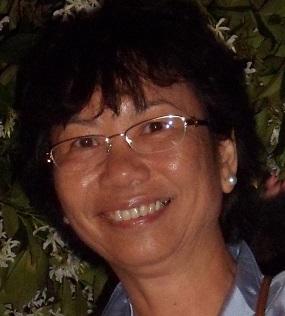 ---
Research Interests:

3D Modeling and Simplification in Computer Graphics and Computer Vision
Scientific Visualization and Analysis of N-dimensional Data
Perceptual Analysis of Level-of-detail (LOD) and Texture Scaling, and in particular Research on Just-Noticeable-Different and Scale Space
Multimedia Transmission of 3D Models and Motion Capture Data, including Packet Loss issues
Quality of Experience in Multimedia Communications
Technology-Enhanced Online Learnig, Teaching and Assessment
Human Computer Interaction guided by Smart Perception, e.g. skeletal and depth recognition
Medical Imaging and Surgical Training
&nbsp&nbsp Irene Cheng, PhD, SMIEEE
&nbsp&nbsp&nbsp&nbsp Scientific Director, Multimedia Research Center (MRC)
&nbsp&nbsp&nbsp&nbsp Adjunct Professor, Department of Computing Science, University of Alberta
&nbsp&nbsp&nbsp&nbsp Program Director, Master with Specialization in Multimedia, University of Alberta &nbsp&nbsp&nbsp&nbsp Multimedia Research Centre
&nbsp&nbsp&nbsp&nbsp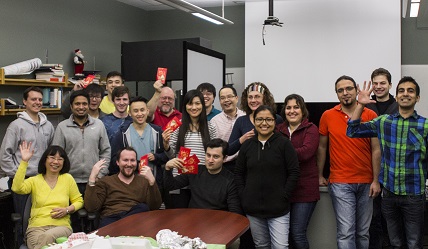 &nbsp&nbsp&nbsp&nbsp (MRC, AMMI & SSRL 2015 lunar year gathering)
&nbsp&nbsp&nbsp&nbsp Computing Science Center (CSC 2-25)
&nbsp&nbsp&nbsp&nbsp Tel: (780) 492-8028
&nbsp&nbsp&nbsp&nbsp Department of Computing Science
&nbsp&nbsp&nbsp&nbsp University of Alberta
&nbsp&nbsp&nbsp&nbsp 114St. - 89 Av. Edmonton Alberta, Canada T6G 2E8

&nbsp&nbsp&nbsp&nbsp Brief CV
&nbsp&nbsp&nbsp&nbsp Office: Computing Science Center CSC 2-61
&nbsp&nbsp&nbsp&nbsp Email: locheng[at sign]ualberta.ca &nbsp&nbsp&nbsp&nbsp Phone: (780) 492-6693 Fax: (780) 492-1071
&nbsp&nbsp&nbsp&nbsp

© last updated Dec 2014
Research Visits:





TCL Research America
San Jose (Jul 2014)




Hong Kong University of
Science and Technology
(Oct 2010).
Universitat Politecnica de Catalunya
Centre de Realitat Virtual
Barcelona, Spain (May 2010).
La Salle,
Barcelona, Spain
(Oct 2008/May 2009).
Computational Vision and Robotics Lab.,
FORTH - HELLAS, Institute of Computer Science
(May, Oct 2008).
University of California,
Riverside Campus
Computing Science Dept.
(May 2004).
Tata Institute of Fundamental Research, Mumbai India,
Computing Science Dept.
(Dec 2004).
University of Pennsylvania, Philadelphia USA,
Computing and Information Science
(Oct 2006/Feb 2007).
Professional Activities:


Faculty of Graduate Study & Research
Alumni Reunion Open House Forum Presentation
October 2, 2004

Faculty of Graduate Study & Research
Professional Development for Graduate Students Discussion Panel
September 19, 2008
---
Multimedia Research Group Website
Multimedia Research Projects
(2009 - 2015):
3D Graphics and Animations with 3DS Max (CMPUT307/2009 pilot CMPUT399).
&nbsp&nbsp&nbsp&nbsp&nbsp&nbsp Student Projects

Computing Sci Topic: Ground Truth Delineation in 3D for Medical Applications (CMPUT605) 2015W
Computing Sci Topic: Gesture and Motion Detection using Smart Sensors (CMPUT605) 2014F
Computing Sci Topic: 3D TexMesh Quality Evaluation Methodology (CMPUT605) 2013F
Computing Sci Topic: Brain White Matter Detection & Evaluation (CMPUT605) 2012W
Computing Sci Topic: Skeleton-Based Evaluation for LOD and Animation (CMPUT605) 2010W.
Computing Sci Topic: Education Application on iPhone (CMPUT396 A3) 2009F.
Computing Sci Topic: 3D Character Animation using Motion Capture Data (CMPUT399 T1) 2009 Spring.
Computing Sci Topic: 3D Model Simplication and Quality Evaluation based on Skeleton-Driven Statistics (cMPUT399 T2) 2009 Spring
Introduction to Digital Image Processing (CMPUT 206) 2008W.
Multimedia Technologies – 3D Online Multimedia (CMPUT414) 2007W
Digital Image Processing with Photoshop (CMPUT299) 2007W
Topics in Multimedia (3D Online Games) (CMPUT414) 2006W
3D Digital Media Computation & Visualization (CMPUT498) 2006W
Online 3D Multimedia (CMPUT604) 2006W

International Students Program, (Dec 2005 - Feb 2006):
Java3D Programming and Content Creation (CMPUT498) - Introduction to 3D Textured Mesh and Content Creation (In collaboration with Andong University, S. Korea)

&nbsp&nbsp&nbsp&nbsp&nbsp&nbsp Int'l Students Program Website
---
Visiting Scholars/ Research Assistants Supervision

As the Scientific Director of the Multimedia Research Centre, one major responsibility is to supervise and train highly qualified personnel (HQP), including graduates and undergraduates as well as research assistants and visiting scholars. Since 2006, I have supervised or co-supervised over forty HQP. Most of them worked as researchers for the CROME Online/Mobile Multimedia Education Project and a number have since joined industries including City of Edmonton, Aptina (San Jose), Pixelstorms Entertainment Studios (Los Angeles), Bioware (Edmonton), Microsoft (Redmond), SAS (North Carolina), Sols Systems (New York), Octagon Research (Pennsylvania) GREE International (Vancouver), Orion Health (Edmonton) and Smart Technology (Calgary). I have also supervised five visiting scholars from China, Brazil and Mexico in 2013-2014. Another two scholars came from Mexico in September 2014 and Feb 2015 respectively.

Supervisor or co-Supervisor of Graduated students:

MSc Sep 2014 – Feng Chen (DataGardens Inc. Edmonton)
MSc Jun 2014 – Mahsa Mohammadkhani
PhD Jun 2014 – Amirhossein Firouzmanesh (DataGardens Inc. Edmonton)
PhD Apr 2013 – Tao Xu
PhD Jul 2012 plus Postdoc till May 2014 – Rui Shen (Senior Imaging Scientist, Aptina Imaging, San Jose)
PhD Jul 2012 – Hossein Azari (Senior Software Developer, DataGardens Inc, Edmonton)
MSc Jan 2012 – Abhishek Sen (Computer Vision Engineer, Sols Systems, New York)
MSc Jul 2011 – Liang Shi (Associate iOS Engineer, GREE International, Inc, Vancouver)
PhD Jan 2010 – Tao Wang (SAS Inc., North Carolina, USA/ previous: Canada's Michael Smith Genome Sciences Centre, BCCA, Vancouver)
MSc Dec 2009 continuing PhD – Nathaniel Rossol
MSc Jan 2009 – Saul Rodriguez (Game Programmer, Pixelstorm Entertainment Studios, Los Angeles)
PhD Sep 2008 – Lihang Ying (IT Enterprise Architecture & Planning, City of Edmonton)


Supervisor Committee or Examiner of students:

MSc Yuchen Wang Sep 2014 – "Tangible Educational Game for Pre-school Children"
PhD candidate AmirAli Sharifi (candidacy Feb 2014) – "Enhancing Perception Using Direct Volume Rendering"
MSc Kyrylo Shegeda, Jan 2014 – "A GPU-Based Framework for Real-time Viewpoint Television"
MSc Garret Hunter, Aug 2013 – "Gesture Recognition Using Hidden Markou Models, Dynamic Time Warping, and Geometric Template Matching"
PhD Xingdong Yang Aug 2013 – "Blurring the boundary between direct and indirect input shared environments"
PhD Matthew Hamilton Mar 2013 – "Realtime time-warped multiscale signal processing for scientific visualization"
PhD candidate Noura Alsufyani (candidacy Jun 2013) – "Evaluation of anatomic surgical outcomes in children with sleep disordered breathing using cone beam computed tomography"
PhD candidate Qiong (Emily) Wu (candidacy Dec 2012) – "Automatic creation of personalized interactive avatar"

Previous Industrial Experience:
Head of Technology Support, Lloyds Bank International, Asian Region -
Computer systems development and implementation, project management and staff training
User Requirements Analyst, Information Technology Division, Lloyds Bank, England
Head of Accounting and Computer Department, Lloyds Bank, Hong Kong
Electronic Data Processing, HSBC
---