CAC 2015 Conference Workshop: 3D Scanning for Conservators
May 26 and 27, 2015
<![if !vml]>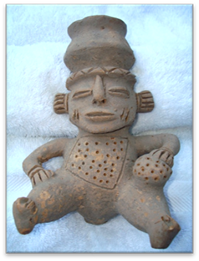 <![endif]><![if !vml]>

<![endif]>
Original pre-Columbian artifact and its digital proxy
Objective
Through lectures, case studies, demonstrations and hands-on activities, this workshop provides an introduction to 3D scanning technology and the range of rapid-prototyping solutions currently available for conservators to use in condition reporting, reproduction, mount-making, or to completing virtual restorations.
Participants will learn about new developments in the field of 3D scanning, be able to determine whether they wish to create a 3D scanning set up within their home institutions, collaborate with other museums with 3D scanning equipment, or, will be able to understand when to turn to available technologies at local universities, or businesses to provide solutions to specific conservation challenges.
Audience
Primarily conservators with interest in exploring 3D scanning, but also mount-makers, exhibit preparators, archaeologists, and paleontologists; 25-30 workshop participants.
Location
NAIT Shell Manufacturing Centre http://goo.gl/maps/GwKDH
Workshop Format
Day one of the workshop will consist of in person lectures and demonstrations by local and invited experts who will share case studies.
Day 2 of the workshop will consist of hands-on activities. Together, we will scan a mock object. Dividing into small groups, participants will try their hand at digital modelling to manipulate the scan into a desired result. These will be turned into physical reality through a range of prototyping equipment available at NAIT Manufacturing Solutions laboratory, and will include FDM, RTV moulding, and CNC routing.
Instructors
<![if !supportLists]>v <![endif]>Workshop Lead Dr. Pierre Boulanger, University of Alberta, AMMI Laboratory
<![if !supportLists]>v <![endif]>Workshop co-lead: Mr. Neil Wenger, Shell Manufacturing Centre, NAIT
<![if !supportLists]>v <![endif]>Invited Speakers:
<![if !supportLists]>o <![endif]>Mr. Angelo Beraldin, National Research Council of Canada
<![if !supportLists]>o <![endif]>Dr. Peter Dawson, Department of Archeology, University of Calgary
<![if !supportLists]>o <![endif]>Mr. Ira Laughy, Rapid 3D
<![if !supportLists]>v <![endif]>Demonstrator:
<![if !supportLists]>o <![endif]>Mr. Mark Weatherburn, Faro Technologies
<![if !supportLists]>v <![endif]>Workshop Coordinator: Ms. Carmen Li, Royal Alberta Museum
Schedule
Tuesday May 26

8:30 to 8:45

Introductory Remarks

Round Table: Participants introduce themselves and prior experience with 3D scanning and/or rapid prototyping

All

8:45 to 9:15

Dr. Boulanger

9:15 to 9:45

Dr. Boulanger

9:45 to 10: 15

Break

10:15 to 10:45

Case Study: Digitizing Polar Heritage Sites at risk in the Canadian Arctic

Dr. Dawson

10:45 to 11:15

Mr. Beraldin

11:15 to 11:45

Case Study: Reproduction of Vintage Parts Using Scan Data and Scan to CAD Modeling

Mr. Laughy

11:45 to 12:00

Question and Answer

All

12:00 to 1:00

Lunch

1:00 to 2:30

Demonstrations: 3D scanning with different types of imaging equipment

Participants rotate between different scanning stations, spending 30 minutes at each station. The goal is to demonstrate the varieties of scanning equipment and software that are available, and their respective advantages and disadvantages.

Station 1: Boulanger + Beraldin: 3D Scanning with different types of low cost 3D imaging equipment: Agisoft PhotoScan and Kscan 3D

Station 2: Mark Weatherburn: 3D Scanning with Faro Edge ScanArm

Station 3: Ira Laughy: 3D Scanning with Creaform

All

2:30 to 3:00

Demonstration: 3D modelling using Rhinoceros 5.1 and MeshLab

Dr. Boulanger

3:00 to 3:15

Break

3:15 to 3:45

Introduction to Rapid Prototyping and Rapid Prototyping Techniques

Mr. Wenger

3:45 to 4:15

Demonstrations: Rapid Prototyping Equipment

Mr. Wenger

4:15 to 4:30

Question and Answer

4:30 to 5:00

Wrap up

Wednesday May 27

8:30 to 9:45

Scan an object as a group using a Kinect

Dr. Boulanger

9:45 to 10:15

Break

10:15 to noon

Make a watertight model and print reproduction

Make a reproduction with missing parts

Prepare a support foam mount

Prepare and print mould for resin casting

Creating a 3D website using a scanned objects

Noon to 1:00

Lunch

1:00 to 2:00

Team 1:

Cont.

Team 2:

Cont.

Team 3:

Cont.

Team 4:

Cont.

Team:

Cont.

2:00 to 3:00

Tour and view all of the rapid-prototyping stations in action (with prepared samples printed ahead of time)

3:00 to 3:30

Break

3:30 to 4:30

Team 1:

Post Processing

Team 2:

Post Processing

Team 3:

Post Processing

Team 4:

Post Processing

Team 5:

Post Processing

4:30 to 5:00

Sharing Session and Discussion

All