---
Click on each photograph for a larger image.
---
Here is a team photograph we sent to NTN Canada upon the completion of the 2000 Mission to a Million tournament. The photograph was taken several weeks after we received the shirts because we wanted the Inglewood Pub logo on the front of each shirt.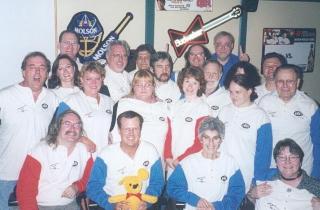 (66K JPG)
The case of characters (from left to right):
Seated:
LABATT, QBERT (holding our summer mascot LITTLE QBERT), CHICO, SETI.
Standing: TAFF, LMF, DOOGIE, CYRENE, SILVEX, WASTED, KIZZ, H HOG, GRUMPY, WYVERN, PETE, GARYD, TAYLOR, JUST M, W, HILO.
---
[Back to QBERT's NTN Photo Album]
September 14, 2000