---
Click on each photograph for a larger image.
---
When I travel abroad, I like to find places that have NTN and meet people I have seen either on the NTN boards or corresponded with on the BadBart discussion board.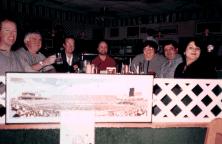 On February 10, 1998 I played Showdown at Houligan's in Ormond Beach, Florida. From left to right: TOUR (the friend I was traveling with at the time), GONZO, QBERT, JOHNNY, JUDES, DODNEY, and TATIA.

TATIA is well known on BadBart as taticat9@aol.com and she plays with DODNEY at Pizzeria Uno in Lake Mary, Florida. JUDES (judes50@juno.com) plays at Merks in New Smyrna and is another frequent contributor to BadBart. GONZO plays at Houligan's and his name often appears on NTN's top 20 boards.

Sadly, GONZO passed away on June 19, 2000. He was an exceedingly kind man and a top-notch NTN player.
---
[Back to QBERT's NTN Photo Album]
June 21, 2000