The Turk
NOTE: TheTurk's new home: http://games.cs.ualberta.ca/TheTurk/
Contents of this Page


Our supervisor, Jonathan Schaeffer, wrote One Jump Ahead - the story about Chinook, the current World Checkers Champion. It is now available from Springer-Verlag.
So, you want to be crushed by Chinook? Give it a try - but be warned, Chinook is not half as forgiving as TheTurk! :)
---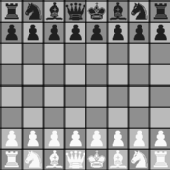 Bugs, comments, donations and flowers to: yngvi@cs.ualberta.ca.
---
If you can give me the game ID of the game we can resume playing at the last position. However, two days after your last move we remove your game and you will not be able to access it anymore!


Bugs, comments, donations and flowers to: yngvi@cs.ualberta.ca.
---
This page is NOT just fun! There is serious research connected to it, even though some might say, only remotely... This page is the tip of the iceberg you can see, the "face" of our research project. This project has two goals:
First, it will serve as a tool in the research conducted as part of our thesis. We will use our program to test various ideas we have and to run experiments to gain empirical data.
Secondly, we would like to use all the useful insides earned in our research to make The Turk a high-performance competitive chess program.
By playing our program, you will not only have fun and see how it develops (if you keep coming back once in a while), but moreover you will help us to find its strengths and most importantly, weaknesses (or even bugs)!

This is why we want to thank you for playing The Turk!
---
The people involved in this project are
The students (doing all the work):
The supervisors (doing all the talk):
---
The program is a joint effort of mostly Yngvi and Andreas with advice given by Jonathan and Tony. Here are some of the current features:
64 bit move generator,
iterative deepening alpha-beta search engine,
null move heuristic,
move ordering (history heuristic and transposition table),
evaluation function:

material,
mobility,
king safety,
pawn structure,
defense and attack bonus,
development,
... well, here should be more within weeks

transposition table (two level and quiescence TT),
search extensions (check, capture),
quiescence search,
ascii, xboard and html interface,
opening book,
... (more to come!!)
---
The program is on the web since October 1995. We started with 3 to 5 games played a day and currently record between 100 and 200 games a day, of which about 60 to 70 percent are serious games, the rest are people just checking it out, playing 10 moves, being crushed and leave :). We estimate that The Turk wins about 90 percent of the serious games, which is really rough, since we aren't quite sure what a serious game really means...
We serve about 3500 requests every day. A request being a move to be made by The Turk, a request for a new game, or any other interaction playing a game.
We are running The Turk on a DEC 3000/400S with 32 MB of memory. The 3400 has a DEC 21064/133-MHz CPU with a 512 Kbyte cache. There is no simple relationship between the clock speeds on Alpha chips and Pentiums -- a clock is not a measure of performance. This SPECint92 is 74.7 and SPECfp92 is 112.2 (for comparison the Intel Pentium/133 numbers are 147.5 and 109.6 respectively).
Strength of TheTurk: We have no Elo rating for TheTurk. But we find, that players around 2000 Elo points have difficulties winning TheTurk in 5 and up seconds settings. If you win TheTurk really easily, you either play a lot against computers and know their weaknesses very well, or you are really a damn good player :).

help for moves,
you chose the side you want to play,
netscape, mosaic and lynx usable,
optional send of your game in PGN format,
optional JAVA interface (use your mouse to set the pieces),
your choice of time in the range of 3 to 12 seconds think time,
detects draw by repetition,
hint a move,
resume game facility.
---
The following is a non-exhaustive list of programs that you can play against, similarly as against TheTurk. Note: there are also sites where you can play against flesh-and-blood opponents - maybe you want to check those out too???
---
We appreciate EVERY report about problems, even if we just point you to some minor problem on your side. Usually we get back to everybody having problems with The Turk. Particularly new technical developments being on the market for about a month or so is a busy time for us. We know about every new browser within a week, every new internet provider within days. If you have a problem please provide us with as much of the following information as possible:
the hardware/computer you are using,
the operating system on your computer,
the browser you are using,
the name of your internet provider,
what options you chose when starting a game,
the game ID(s) of the games you played,
option setting on your browser regarding information update, such as cache settings, verify settings and alike.
Apparently, the MicroSoft Internet Explorer in some early versions, has problems loading the right pieces (pictures for pieces). Get IE 4.0 or newer and it will hopefully work.
There are some problems reported with WEBTV. So far, I have no idea what the problems are, if you can let me know what you tried and so forth, I'd very much appreciate this!
It happens sometimes, that after making a move you are put back in time to a previous position, or the computer makes apparently two moves in a row. We tried to track this problem for over a year now, but can't consistantly reproduce it - which would make so much easier to find the problem. If you have ANY information that we could use to narrow the problem down, please let us know!
That is it so far - if you think you found another one, send us a bug report! Thanks!
Send them to: yngvi@cs.ualberta.ca.
---
You are visitor:
to this page since August 15, 1995.
---
Last Modified: February 12, 1998